15th March, Mumbai: 13th March, was a day of pride for India when Netflix's Elephant Whisperers which has been created by Kartiki Gonsalves and produced by Guneet Monga, made history by becoming the first film produced in India to win an Academy Award in the "Documentary Short Film" category at the 95th Oscars. The overwhelming admiration and praises received on the Oscar Win has overjoyed the Producers Guneet Monga, Achin Jain and Director Kartiki Gonsalves and the protagonists of the film Bomman and Bellie. The heartwarming documentary is a journey into Bomman and Bellie's world and their efforts in raising baby elephants, co-existing with nature and sharing their space and home with animals of the forest. They are delighted to see and hear the adulation their story is receiving from across the world.
On bringing Bomman and Bellies' story to life and being recognised worldwide, Kartiki Gonsalves mentioned, "It is absolutely incredible to have an Indian Indigenous documentary on the sacred bond between man and nature on our very own Asian Elephants to be recognised around the world. I still remember when I showed them the final film in a private viewing in October of 2022. There is no greater feeling in the world than to present to Bomman and Bellie everything I have worked on over the last five years to bring their story to the world and to watch them smile and laugh and cry while watching it. That I must admit is the most beautiful feeling in the world. I didn't just make a documentary on them, they are an integral part of my life along with Sanjana, Raghu and Ammu. It was also a very special moment when I took my parents to their house. We are all family. I am extremely grateful to Netflix and Sikhya Entertainment's excellent team for believing in the power of this very unique family story. It is truly an honor to be the first ever Indian director to receive a prestigious Academy Award. With this win, I hope to encourage more young women and men to go out and tell their unique stories however small they might be and to also work on more stories to help connect humans to nature and to better understand it."
Guneet Monga on Bomman and Bellie being Felicitated mentioned, "The days following the ceremony have been so incredibly gratifying. The immense love the film is receiving worldwide and the incredible appreciation of people from across the globe has been overwhelming. This opens up a whole new audience for the documentary and I'm happy that the intent and message of our film will further reach millions. Also the impact the film has had and the love for the amazing duo of Bomman and Bellie is for me personally as a filmmaker the biggest achievement of all. The impact this news has had and that they're being recognised, felicitated for their incredible story, their hard work makes me really emotional and happy. This was always our intent in making this humble documentary, to nurture the human relationship with the environment, and two incredible humans who selflessly set an example of how we all can Co-exist."
This historic win has been lauded by influential voices across the country, from politicians to leading entertainment voices. The documentary has garnered praises from all corners and has given the world the opportunity to see Bomman and Bellie through Kartiki's lens. Bomman and Bellie were also felicitated by the CM of Tamil Nadu, MK Stalin. The efforts of The Elephant Whisperers' team has resulted in the Tamil Nadu Government announcing a token of appreciation of Rs 1 lakh each for all 91 elephant caretakers across the 2 camps in the state from the CM Relief Fund. Additionally Rs 9.1 cr has been assigned to build homes for mahouts and Rs 5 cr has been allotted to develop 'Elephant Camp' in Anamalai Tiger Reserve.
MK Stalin, CM Of Tamil Nadu, felicitated Bomman and Bellie for their exemplary work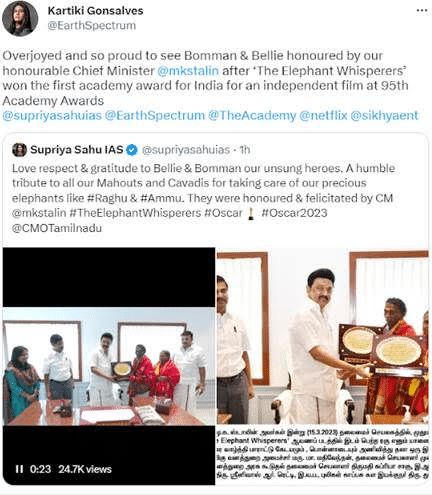 Prime Minister Shri Narendra Modi on Elephant Whisperers' spectacular feat!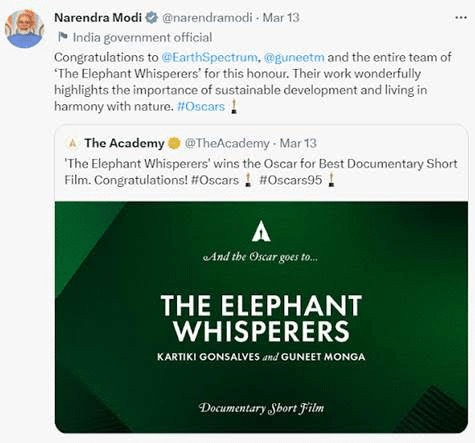 Draupadi Murmu congratulated the Elephant Whisperers' team

5 time national award winner, Mohanlal on Elephant Whisperers bringing the Oscar home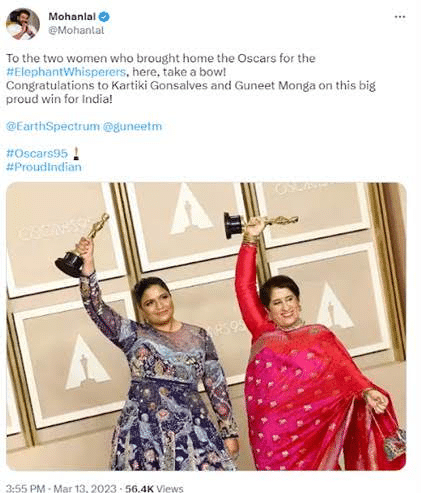 Shahrukh Khan congratulates Guneet Monga for Elephant Whisperers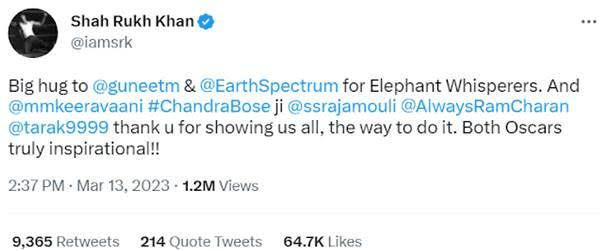 Priyanka Chopra, the Global Icon for the South Asian film industry gave a shout out to The Elephant Whisperers' team on their oscar win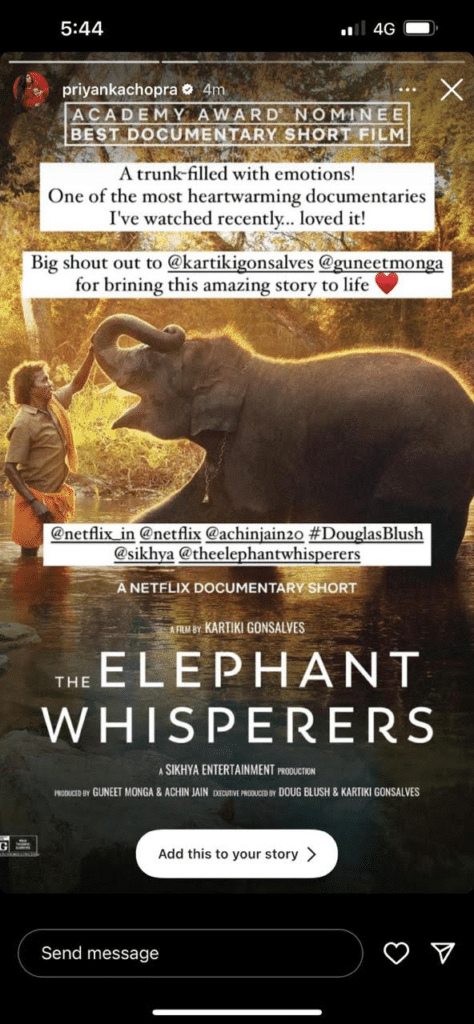 Sachin Tendulkar congratulates the Elephant Whisperers' team, mentions how India is roaring on their win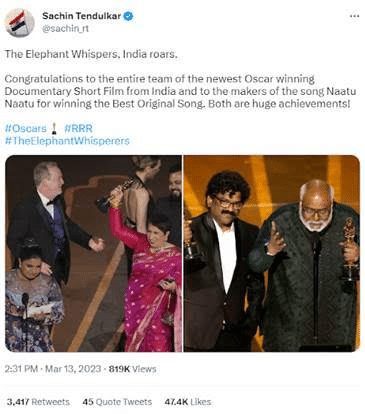 Yash extends congratulatory wishes to Guneet Monga and Kartiki Gonsalves for their big win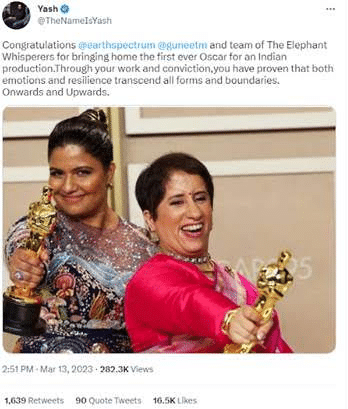 The Elephant Whisperers is produced by Guneet Monga and Achin Jain under the banner of Sikhya Entertainment.
About Netflix:
Netflix is one of the world's leading entertainment services with 231 million paid memberships in over 190 countries enjoying TV series, films and games across a wide variety of genres and languages. Members can play, pause and resume watching as much as they want, anytime, anywhere, and can change their plans at any time.
About Sikhya: Sikhya Entertainment is a homegrown premium content studio with a global footprint. The production house has carved out its way in the world with the power of true storytelling and creating conversation driven Cinema, producing films like The Lunchbox, Masaan, What Will People Say, Monsoon Shootout, Haramkhor, Pagglait and an Oscar-winning Short Documentary – Period. End of Sentence to name a few.
With the pursuit of creating content that enables conversations, makes people ponder and touches the soul, Sikhya Entertainment is known for producing Cinema that has not only local but global reach as well. The company dons a total of 9 films at the Cannes Film Festival and 14 films at the Toronto International Film Festival. Breaking barriers and expanding its horizons, the company has also ventured into various content styles such as documentaries, short films, podcasts, etc. Our mission is to continue to move the needle forward for South Asian cinema and to raise the bar for international storytelling.