17th March, Mumbai: The TTMI indicator is a cutting-edge tool developed by Shivraj Katgaon, an experienced trader who has developed several successful trading strategies for buying and selling options. This AI-based indicator offers traders automated buy and sell signals after conducting technical analysis and taking into account factors such as volume, trend, and momentum. The indicator has been backtested on historical data of various instruments, including Nifty and BankNifty, on different timeframes, making it one of the most reliable indicators available in the market.
The backtesting report of Banknifty on an hourly timeframe shows that the TTMI indicator is a highly profitable tool that traders can rely on. The net profit of Rs. 46,600.90, gross profit of Rs. 71,879.15, and gross loss of Rs. 25,278.25 indicate that the system has been successful in generating profitable trades. The maximum drawdown of 3173.8 and the profit factor of 2.844 are also indicative of the system's efficiency in managing risk and maximizing gains.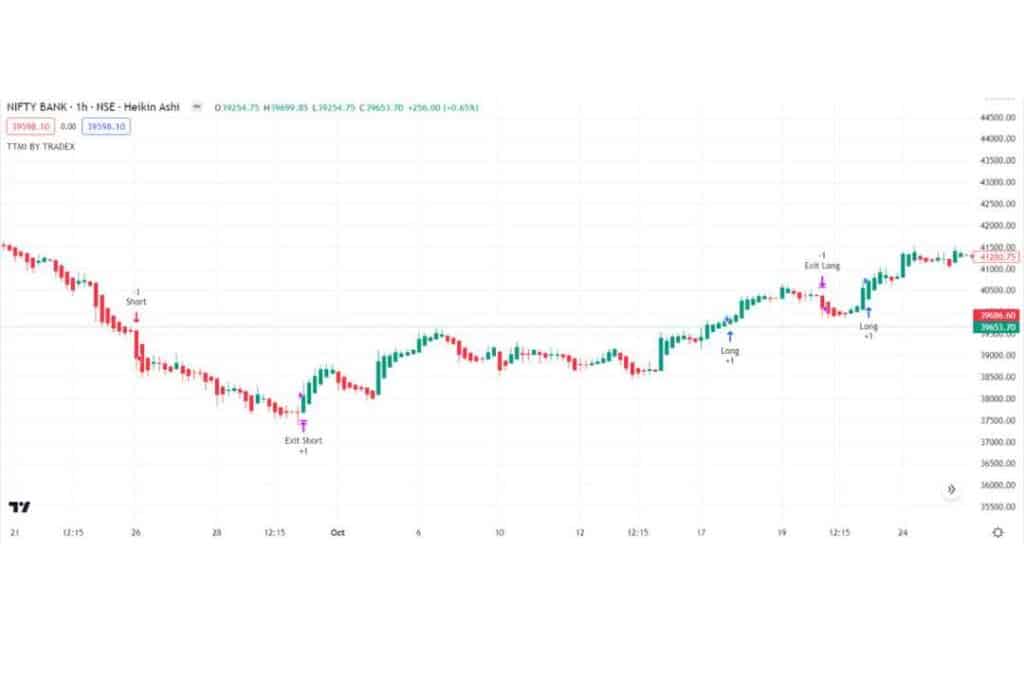 The report shows that the TTMI indicator has generated a total of 237 closed trades, with 128 trades being winners and 109 trades being losers. The percentage of profitable trades is 54.01%, indicating that the system has a moderate success rate in generating profitable trades. The risk to reward ratio of 2.421 is also impressive, which indicates that the system is effective in managing risks while maximizing returns.
The average winning trade of Rs. 561.56 and the average losing trade of Rs. 231.91 indicate that the system generates significantly more profit on winning trades than losses. The largest winning trade of Rs. 3,573.10 and the largest losing trade of Rs. 1,554.15 demonstrate the system's potential to generate high profits while effectively limiting losses.
The winning and losing streaks of 22 and 9, respectively, are also impressive, indicating that the system is capable of generating profitable trades consistently over a prolonged period.
Traders who are looking for a reliable and effective trading tool can benefit from the TTMI indicator. The simplicity of use and the comprehensive backtesting results make it a must-have tool for traders. Additionally, traders who want to avail of this indicator can visit the official website www.ttmibytradex.com and book a consultation with Mr. Shivraj and his team. The consultation process involves a personal discussion with the traders to understand their specific requirements, and the team will set up the indicator for them accordingly.
In conclusion, the TTMI indicator is a highly effective tool for traders looking to generate consistent profits in the stock market. The impressive backtesting results indicate that the system is reliable, efficient, and capable of generating high profits while managing risks effectively. With its ease of use and comprehensive features, the TTMI indicator is a valuable asset for traders who want to take their trading game to the next level.